Newsletter

The President Message August 2022

The President Message September 2022
I am writing this message on very short order because it is the 12th of August late in the night getting ready to leave in the early morning to the see the Grand Coulee Dam and beyond. As a result, this is going to be a short message.
Our tour director J.C. Stephenson is coordinating with the Orange County Chapter for our September tour and details will be coming. Thanks for the invite, Orange County Chapter. The tour date is going to be September 17th.
Also, this September is the month that a nominating committee will be appointed. Please show those hands at the next meeting you Model A Fans.
I want to welcome Mark, and Becky Simons home from a 9,000+ mile excursion of our great United States.

Bonnie and I want to get an early start in morning so please everyone stays well, drive safely, and keep all 4 wheels pointed down.
Larry Ryan: President
LRyan41724@msn.com Cell 562 484 8415 yes you can call me in the next 2 weeks while we are on the road of adventure.

THE DIAMOND TREAD CHAPTER OF THE MODEL A FORD CLUB OF AMERICA
Minutes of the Board and General Meeting August 11, 2022
Called to order at 7:38 p.m. by President Larry Ryan. Flag Salute led by Steve Sixt.
President Larry Ryan took a count of those who could attend the Celebration of Life for Lloyd Ikerd, Monday, August 29, 4:00 to 7:00 p.m. at the First Christian Reformed Church, 18411 Alburtis Ave., Artesia. Sixteen members said they would attend.
Secretary LeRoy Kehret; The minutes of the last meeting were corrected and approved.
Treasurer Louise Beckley; The bank balance was read and correspondence from; an Orange County member who is selling a AA truck with many parts, and a prospective member of the MAFCA Board for 2023.
Membership Chair Vicky Bartlett; We have 61 member families, five have joined in 2022.
Hospitality Chair Pauline Issa; August refreshments are provided by the Sentos, September refreshments by Chuck Mayhew, and October by Steve Sixt.
Tour Director J. C. Stephenson absent. The September Tour will be with the Orange County Chapter celebrating Model A Ford Day, Sept. 17. Details at the next meeting.
Fund Raising / Picnic Chair Bob Toerge; The Mayor of Norwalk is considering the Henry Ford Picnic in Norwalk in exchange for work on their AA truck. Vicky says that El Dorado Park Golf area in Long Beach is not good for the Picnic as there is no electricity or P.A. system.
Web Master Mark Simons has developed a QR Code for the club website. We need new software but he can get it at the price of the current software. Thanks, Mark.
Henry's Helpers Chair Chuck Mayhew; Thanks to Charles Sento for helping with Chuck's Sedan. Charlie, Dennis, Larry and Luke also helped.
Old Business; Last year we made a donation to the La Palma Concerts in the Park. It was moved, seconded and carried to donate $100.00 toward the La Palma 2023 season.
New Business; Larry mentioned St. John Bosco's "It's A Wonderful Life" Christmas Celebration at the Downey Assistance League on Florence in December this year.
Refreshments and Raffle; Model A; Chuck Mayhew, Membership; not here, 1/3, 1/3, 1/3; Bob Toerge and Chuck Mayhew. $37.00 went to Linda Seagroves for the Preschool.
Meeting Adjourned at 7:58 p.m.
Respectfully Submitted, LeRoy Kehret, Secretary
September 8th

(

NORMALLY the

second Thursday of the month)

General Membership Meeting -

The Sizzler in Downey on 10315 Lakewood Blvd

September 10th

​​​​​​​

Santa Maria's Model A Club's All Ford Car Show and Swap Meet
September 13th

(second Tuesday of the month)

​​​​​​​

Red Hot Sparks Luncheon - Cedar Creek Resturant - San Juan Capistrono

Train from Fullerton to SJC leaves at 10:41am
September 17th

Combined tour with the Orange County Model A Club

and Capistrano A's

The

Route overview 71 miles:

Start in HB on PCH/Warner head south on PCH until Dana Point. 31 miles of PCH

Yes, we go thru Laguna but we did the pre-ride. Only 1 traffic light at the top of a hill.

Turn inland towards Capistrano Mission in Dana Point.

Take Hwy 74 to Antonio Pkwy. Then to Trabuco Canyon and Rose Canyon Cantina for lunch.

From Rose Canyon, Santiago Canyon to Orange Circle, where we finish.

08:00 - 09:00 Donuts & Coffee

16917 Algonquin St, Huntington Beach, CA 92649

10:15 Crown Valley Parkway

This will be an RP (Rally Point)
Here we will regroup after Laguna craziness

Chance to use restrooms, get fuel at Chevron Station.

10:45 Depart Crown Valley

10:55 Turn left on Del Obispo in Dana Point.

11:07 Capistrano Mission, take Hy 74 to Antonio Parkway

11:45 Rose Canyon Cantina for lunch.

Rose Cantina can handle many guests.

Have no idea when we will leave Rose Cantina but it will take 40 minutes to get to the Orange Circle.

Where we will parade around the circle a few times to celebrate International Model A Ford Day
Paradise Valley Model A Ford Club's 60th Annual Antique Car Swap Meet

​​​​

Meet will be held at the Westen Regional Little League Headquarters, 8707 N. Little League Dr., San Bernardino, CA
October 1st

The Orange County Model T Swap Meet,
3211 E. Chapman Ave., Fullerton, from 7:00 a.m. to 1:00 p.m
October 11th

(second Tuesday of the month)

​​​​​​​

Red Hot Sparks Luncheon - TBD

October 13th

(second Thursday of the month)

General Membership Meeting -

Calvary Cross Chapel Preschool - 6:30pm
On 8/31, the Wednesday Breakfast group met at Village Cafe in Long Beach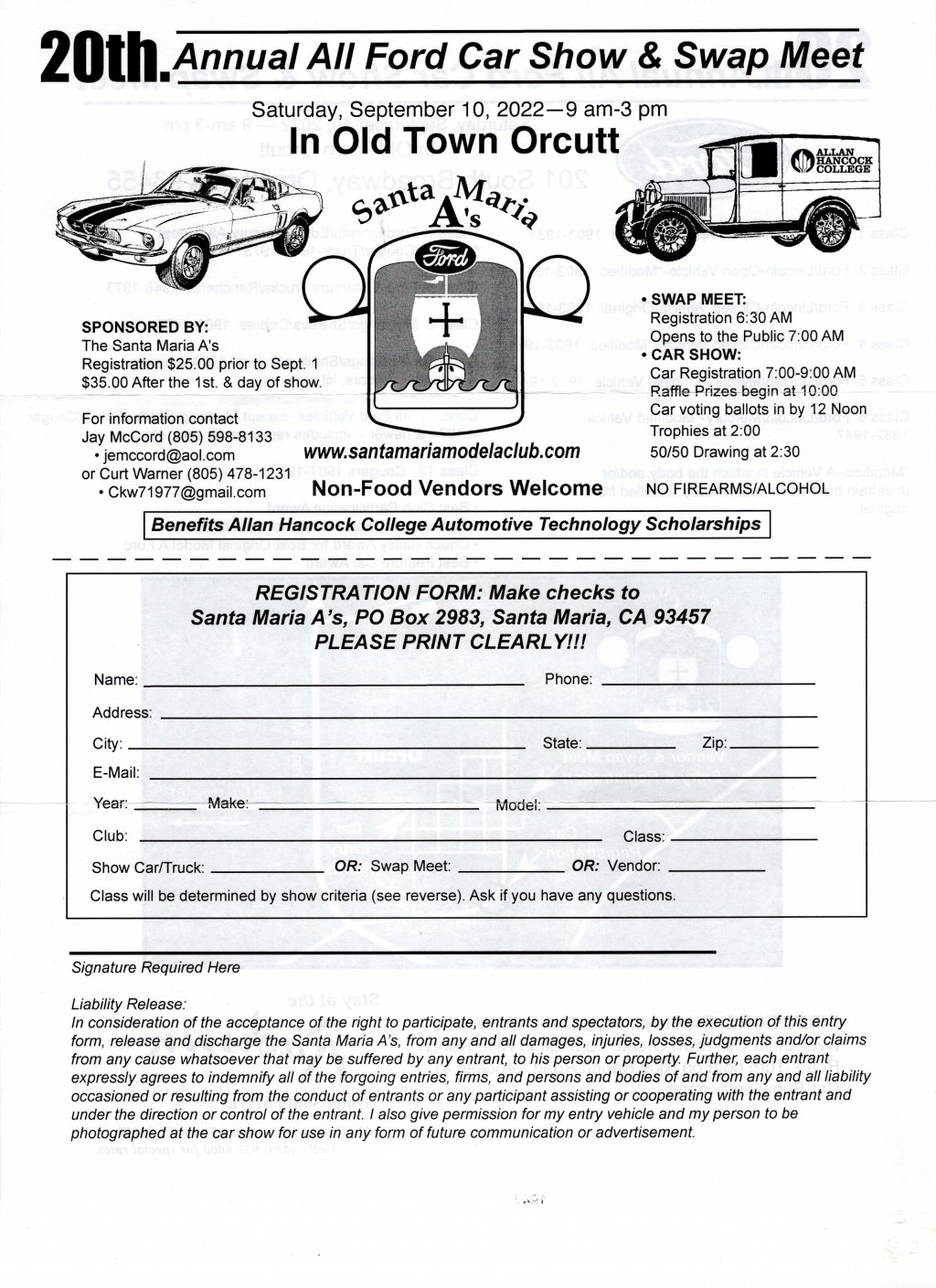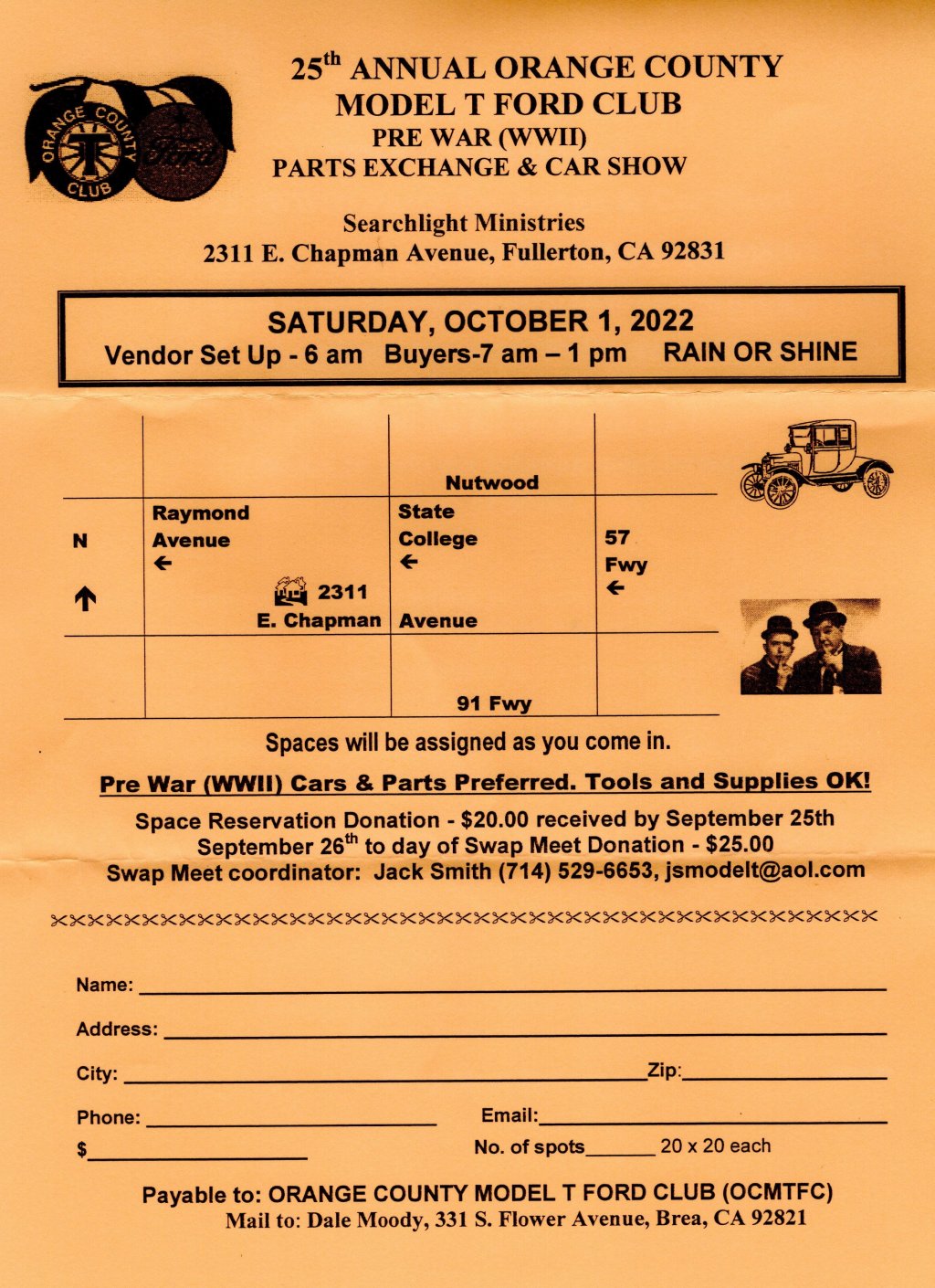 No updates this month

Diamond Tread Chapter MAFCA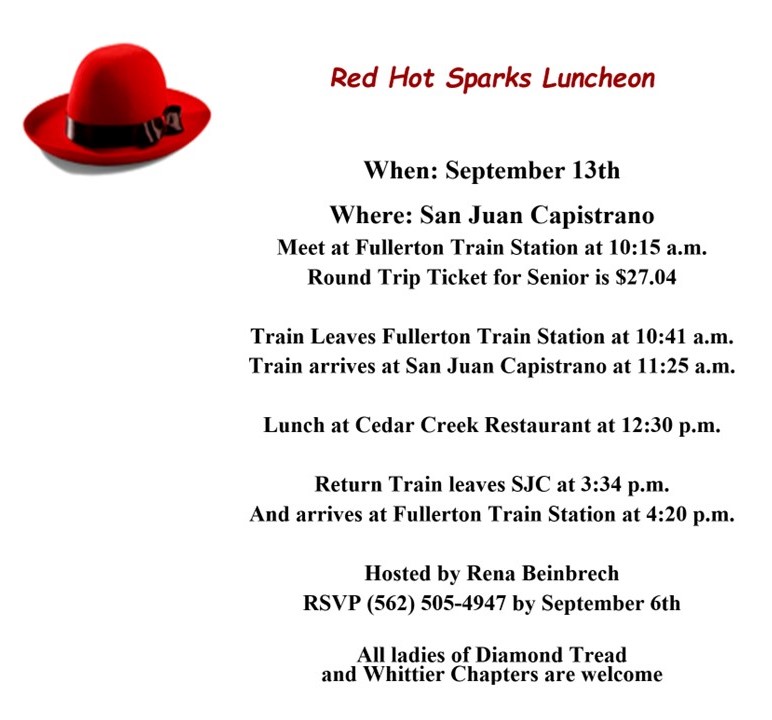 Celebrate and Congratulate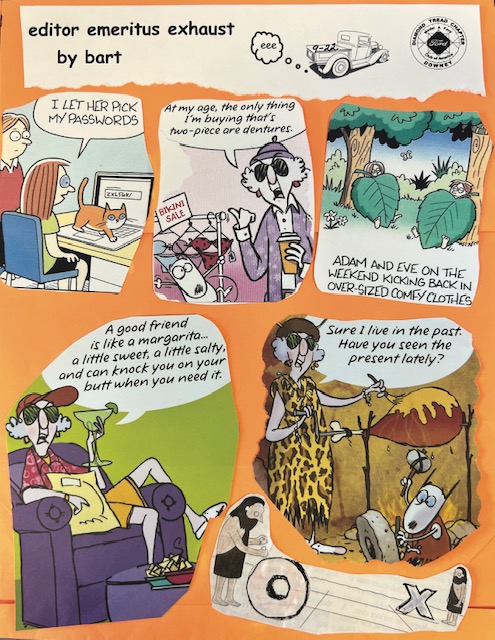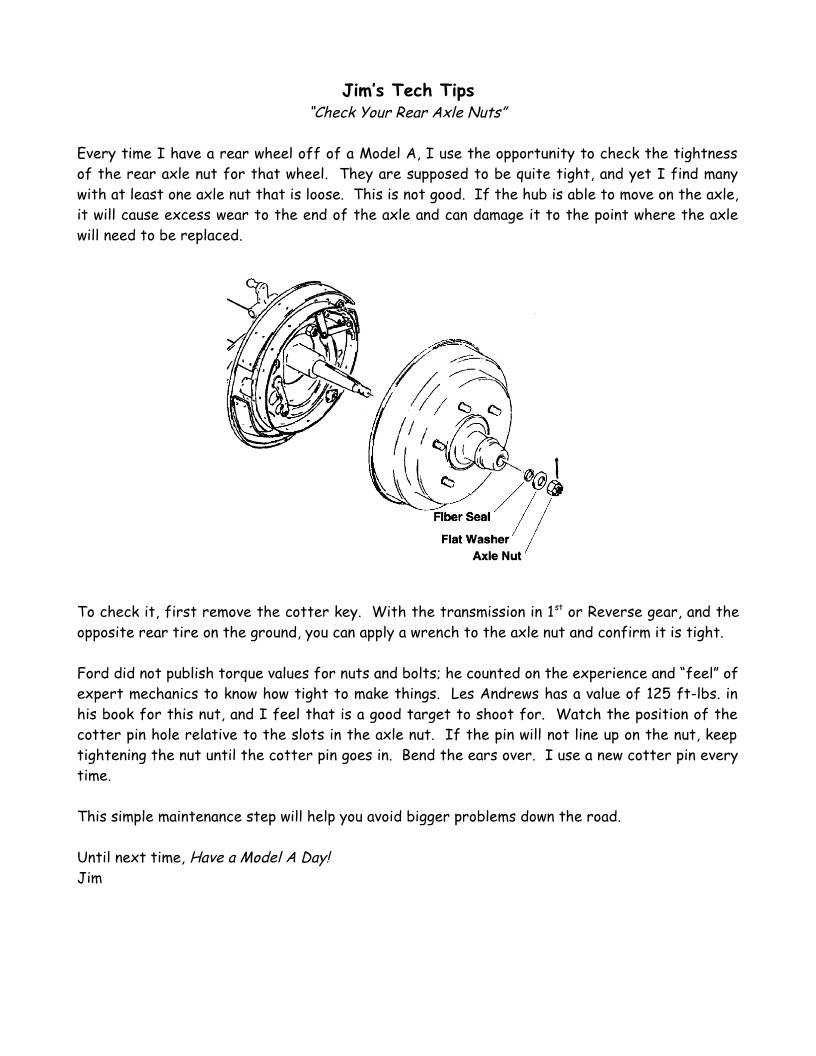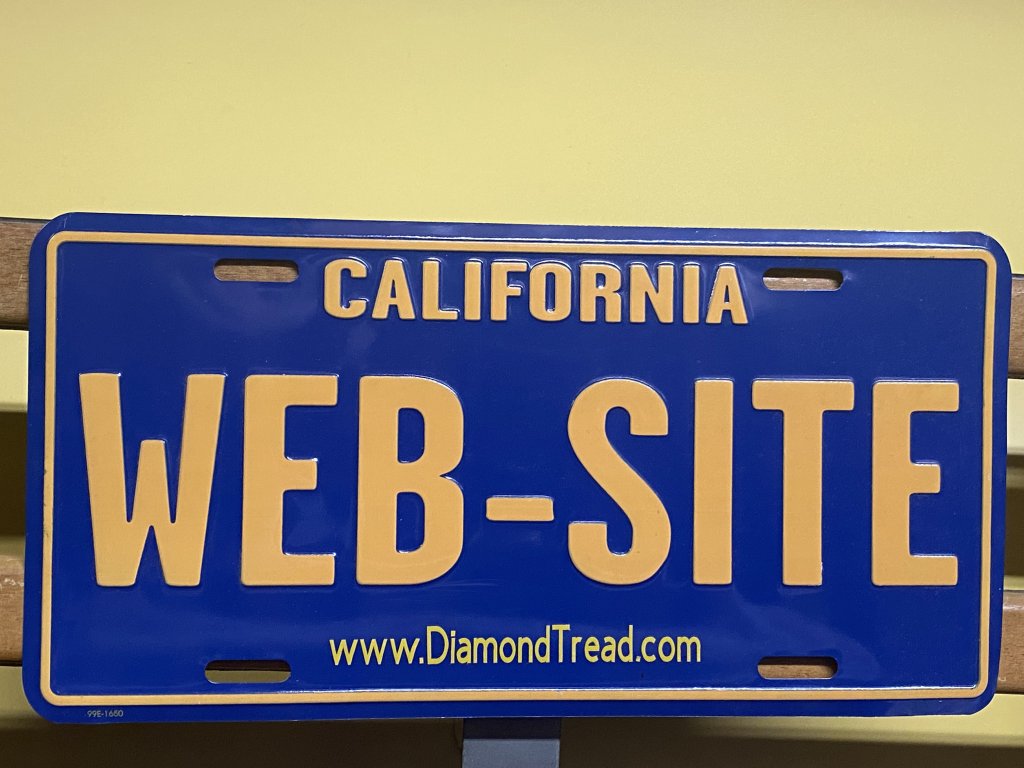 Thank you for visiting DiamondTread.com.  If you have any comments (enhancements, errors, typos, oversights, updates or even an "Ata Boy") regarding the website, please send an eMail to WebMaster @ DiamondTread.com and we will address any issues ASAP.