Newsletter

The President Message November 2021
Beginning November 11, 2021, we will be holding our Diamond Tread chapter meetings on the

SECOND THURSDAY OF THE MONTH

, at Calvary Cross at 16705 Gridley Rd., Cerritos at 6:30 pm
.
Linda Seagroves offered our chapter a more permanent meeting location at Calvary Cross Chapel Preschool. It would be available to us year-round. Vicky Bartlett, Pauline Issa, Linda Seagroves, and I visited the site. The location is nice and quiet accommodating for our needs. Before the pandemic we held our meetings at Gallatin Elementary. Information obtained from the Downey School District advised that due to after school hour activities we would no longer be able to use the site. I am grateful to Linda for offering her classroom and will be using the new location for now.
Mark Simons is our Webmaster and is doing a knockout job. It is important that members go to our online website to see our monthly newsletter…. you can even access the website from your smart phone. Find out what is going on with the chapter and do not miss any upcoming activities and tours!
Mark Williams and I went to a Corvair club meeting the other night. Yes, in my youth, it was my preferred car to drive. Unsafe? Not. Mark Williams has 4 Model A Fords, 3 AA trucks and a 1928 Roadster pickup. Mark just purchased a genuinely nice '64 Corvair Convertible for a modest price from Craigslist. I was able to drive the Corvair and it brought back memories of my motoring youth. I may one day share in writing some of my early motoring experiences.
Please do tell…. what was your very first car? Ford fans, it was the Corvair Monza that forced Henry Ford II and Lee Iacocca to engineer the Ford Mustang which killed the Corvair. My favorite car is still the Model A, so do not lose faith.
A couple of weeks ago, my daughter called me from Summerland, just south of Santa Barbara to bring our 29 Model A Ford sedan, and an antique lantern for a show and tell at her Montecito 2nd grade class. What a drive that will be. A over nighter. Over 250 miles of glorious motoring taking the back roads. How does one share a 92-year-old car to 2nd graders? The car is ready, and Bonnie and I are looking forward to this. I think we will dress the part and give these kids the hands-on treatment. What a treat.
Remember, our next meeting will be at Calvary Cross Preschool at 16705 Gridley Cerritos at 6:30 PM Thursday November 11th. This location has a nice lighted parking lot away from the street. Please bring cardboard for under the Model A's as the parking lot is concrete. There are a few chairs along with couches in the room. If you have a folding chair, bring it just in case, I want to make sure we have adequate seating for everyone.
Just a reminder the 65th Holiday Motor Excursion tour is set on Sunday December 26th, 2021. 7:30 AM arrival at Arcadia Regional Park, 405 S Santa Anita Ave, Arcadia CA. 91006. Tour Departs around 9:30 AM.
In closing, another year is nearing the end and I am looking forward to serving as President another year in 2022.
Larry Ryan President.
Home: 562-868-8904 Cell:v562 484 8415
Email is: LRyan41724@msn.com.
DIAMOND TREAD CHAPTER OF THE MODEL A FORD CLUB OF AMERICA
Minutes of the
October 13th
, 2021 Board and General Meeting
San Martin Park, Lakewood
Called to order by President Larry Ryan at 4:07 p.m., Flag Salute lead by Charlie Sento.
Member Gary Gaffney of Long Beach welcomed back. 13 members, 5 Model A's present.
Possible meeting place for next month at Calvary Cross School and Preschool, 16705 Gridley Rd. Cerritos. Day of the week would need to be changed.

Motion to move meeting to Calvary Cross pending visit by Larry.

Motion to move meeting date to 2nd Thursday of the month seconded and carried.

Discussion followed regarding cost of meeting places by other clubs;

San Gabriel MARC $100 per month

Santa Anita A's $100 per month

Diamond Tread to offer what we had been giving to Gallatin; proceeds of 1/3, 1/3, 1/3 to school supplies
Vice President Steve Sixt;
MAFCA Board of Directors vote count is Oct. 21st. 9:00 a.m. People are needed to count votes.

Possible future tour to Regan Library in Simi Valley. The F.B.I. collection is on display.
MSC to accept minutes of Sept. 8th as posted on website.
Treasurer Louise Beckley, Hospitality Chair Judy Thomas, and Webmaster Mark Simons absent.
Membership Chair Vicky Bartlett; 200 DTC tri-fold folders printed (Thanks to Chuck Mayhew).
Historian/Publicity Chair Bonnie Ryan;
Photos have been taken and submitted.
Tour Director J. C. Stephenson;
The Hero's Tour Sept. 30th was well attended.

This Sunday the 17th is Antique Nationals at Irwindale.

Halloween the 31st is the Kiwanis Candy hand-out in Lomita. (See Pauline.)

Nov. 2nd is the Orange County Model T Club Swap Meet.

Fund Raising/Picnic Chair Bob Toerge;
S.F.S. Parks still shut down.

Sento's have been housing a 55" TV purchased for the Henry Ford Picnic in 2020. What will we do with it? (Possibly offer it to the Calvary Cross School, if that becomes our next meeting place.)
Henry's Helpers Chair Chuck Mayhew;
Chuck, Charlie and Larry helped

Mark Simons with a timing gear

Jim Barger with wheel alignment

Pauline with her radiator
Nominating Committee found all open positions to be extended by current officers with the exceptions of Vice President, Editor/Newsletter, and Hospitality Chair (which may be filled by Pauline.)
Raffle; 1/3, 1/3, 1/3 won by J. C. Stephenson and Pauline
Meeting Adjourned at 5:07 p.m.
Respectfully Submitted; LeRoy Kehret Secretary
November 7th

San Fernando Valley Swap Meet & Car Show -21000 Plummer St Chatsworth 7am - 2pm




November 9th


Red Hot Sparks Luncheon - The Original Roadhouse Grill Whittier - Hosted by: Vicky Bartlett



November 11th

General Membership Meeting -

Calvary Cross at 16705 Gridley Rd., Cerritos at 6:30 pm
December 26th

65th Annual Holiday Motor Excursion - Presented by The Horseless Carriage Club of So Cal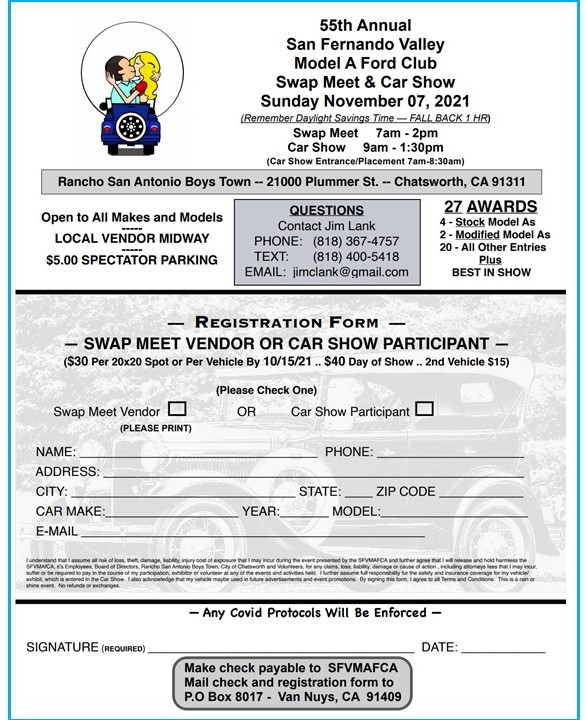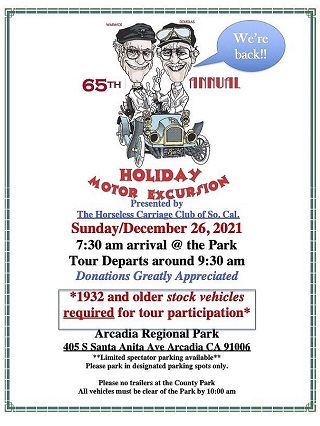 Greetings, Diamond Tread Members,

It is time to pay your dues for 2022. Attached you will find the renewal form.
Keep in mind that if you pay your dues before Jan 1, 2022, you save $5.00.
See the form for details.
You may phone or text me at my cell 213-445-2962 if you have any questions about your dues payment.
Looking forward to seeing you in 2022.

Diamond Tread Chapter MAFCA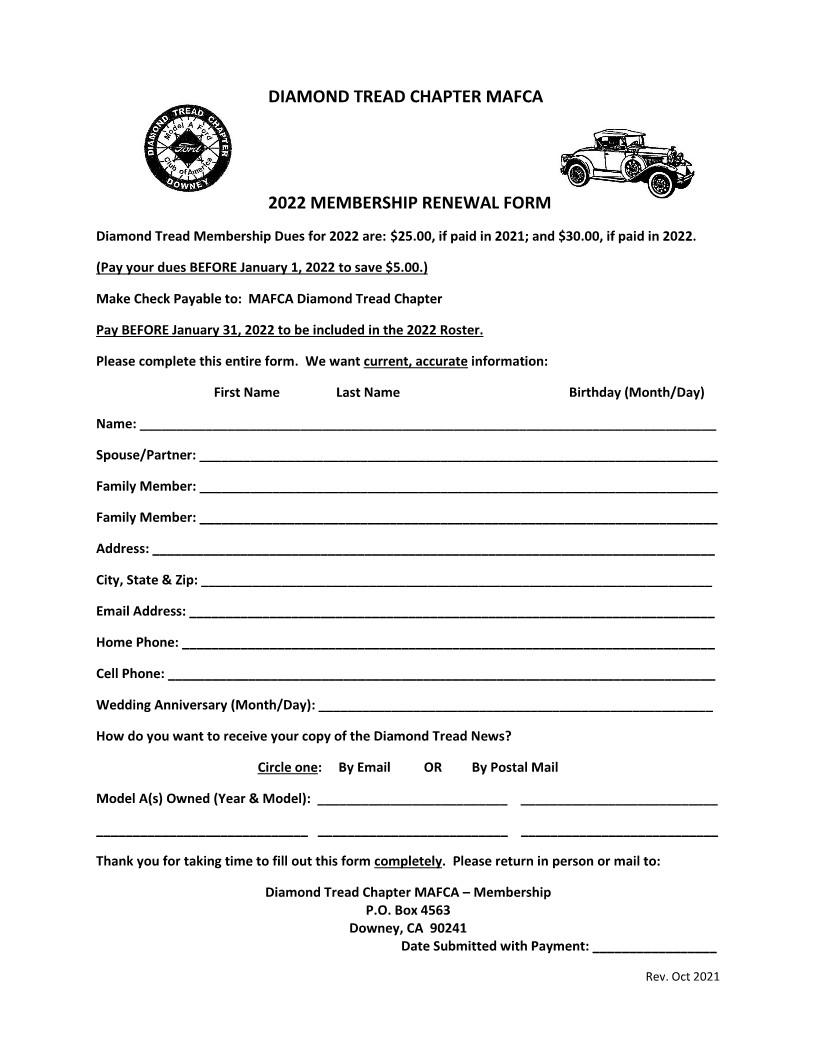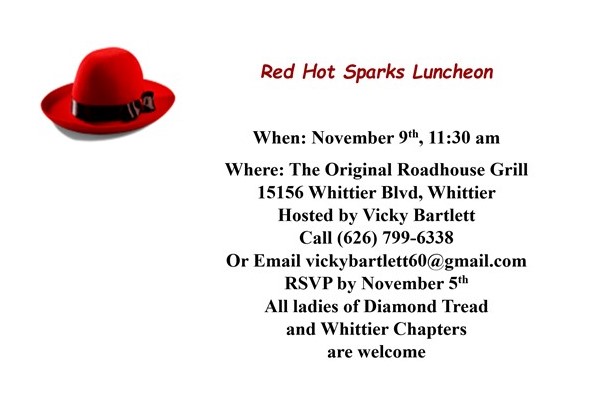 November: Celebrate & Congratulate

Birthdays
Joe Beason
Mike Long
Jim Runyon
Bonnie Ryan
Joan Sento
Mike Spearman
Judy Thomas
Martie Wiedle
Anniversaries
Wayne & Martie Wiedle
Frank & Maria Azucena
Joe & Pou Im Beason
Ron & Betty Boan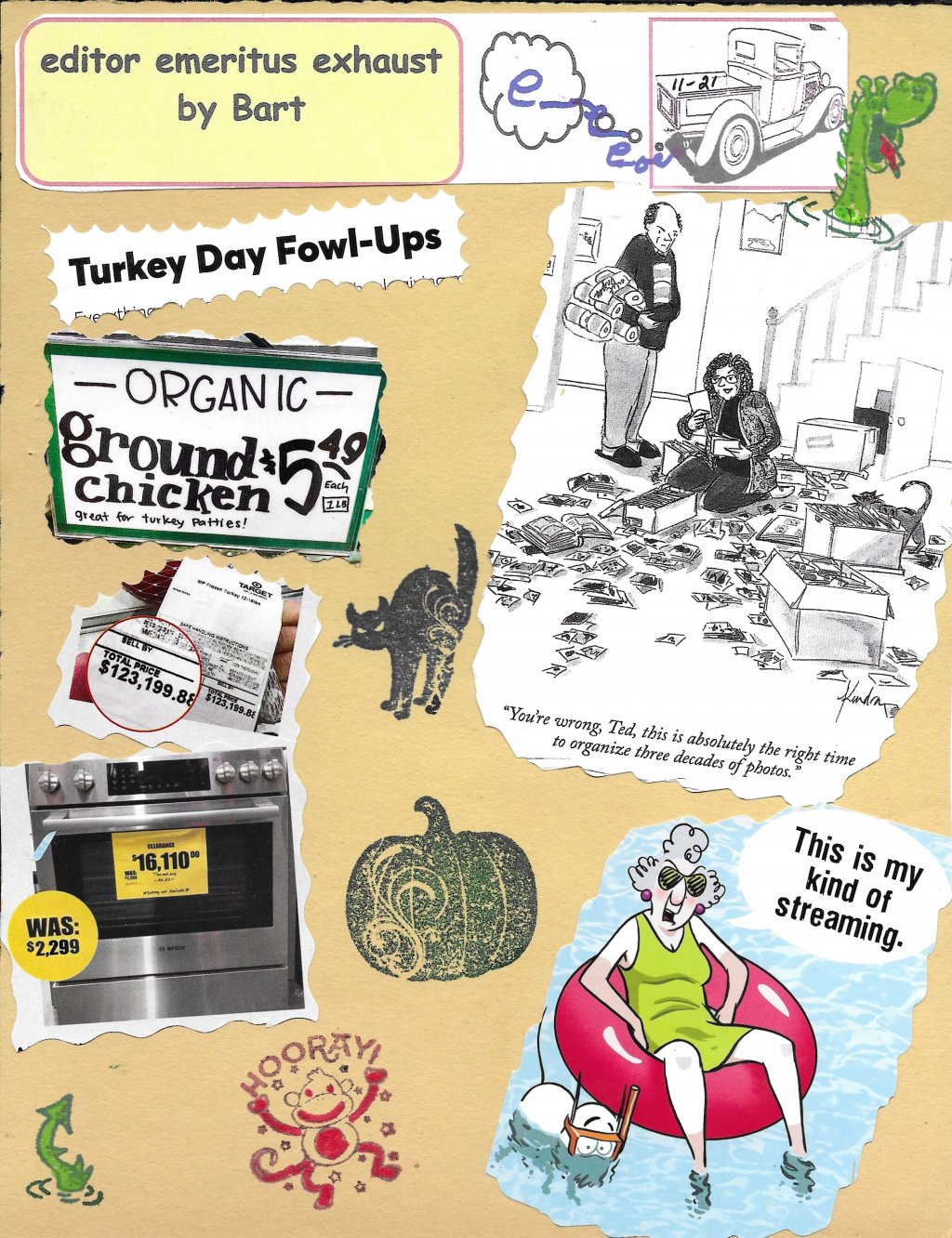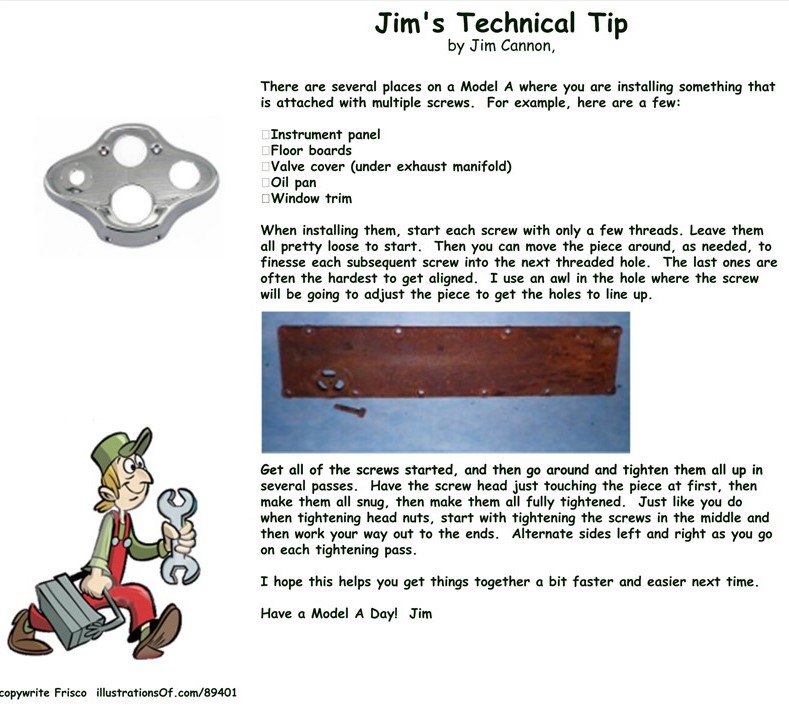 Thank you for visiting DiamondTread.com.  If you have any comments (enhancements, errors, typos, oversights, updates or even an "Ata Boy") regarding the website, please send an eMail to WebMaster @ DiamondTread.com and we will address any issues ASAP.