Newsletter

The President Message October 2021

I am up early on this date that I must get this President Message to the Editor. As with all of us, time gets away from me with everyday things that come up.
On the matter of the election of our Board Members, I want to thank those individuals accepting new positions next year. Luke Sayer, Charlie Sento, and Chuck Mayhew, thanks for stepping forward as our nominating committee at our last Board and Membership meeting.
The Henry Helpers are at it again…assisting Mark Simons with on his '31 Roadster. Items

addressed were a minor exhaust leak, wheel alignment to adjust the toe in, and a new timing gear. Mark is a hands-on guy and was under his Model A turning the wrenches. Charlie Sento, Chuck Mayhew and I have been working on a few other members cars the past few months.
Chuck Mayhew, Barry and Louise Beckley, Bonnie and I attended the Long Beach Model T Club tour to Randy's Donuts in Inglewood. We followed their Model T's with our Model A's and after having coffee and donuts, I lead our Fords to the Driver's Museum in El Segundo where there was a Mustang Cobra car show going on. I could spend hours in there. Here are a couple photos provided by Louise Beckley...

The

Possible Diamond Tread's September Tour - Salute to First Responders "Drive By"

did occur on 9/30. There were a total of 17 cars that attended and Diamond Tread was represented by 3 cars (Barry/Louise Beckley, Chuck Mayhew and Jim/Dianne Runyon). Thank you to Louise Beckley for submitting these images.
Read the minutes of our last meeting and you will see that our club is working on a new meeting location. Thanks to our newer member Linda Seagroves of Norwalk for proposing Calvary Cross Chapel preschool as an option. I will send a flash email out regarding date and time when we will be meeting there.

Saturday October 2nd our Chapter is invited to participate with our Model A's in the Pioneer Days Parade in Artesia. Meet up will be at Chuck Mayhew's home at 16714 Westgate Ave., Cerritos at 1:00 PM. We will be departing at 1:15 sharp for Artesia Park to congregate at 1:45 PM. Please R.S.V.P. Larry Ryan 562 484 8415.
The Concert in The Park at Central Park in La Palma was through the month of August. We had about ten regular members that attended the concerts. The last concert of August there were thirteen cars with about 20 Diamond Tread members. If you liked disco music and hot dogs, this was your late afternoon out in the park. Two pop ups were needed for shade. Start planning now for next summer, if you like people, dogs, laughter and good music, Concert in The Park is the place to be. It is free as the air we breathe. At these outings there were people showing interest in our vintage Fords. We gave out invitations to sit in some of our Model A's. Kids of all ages love seeing and experiencing these cars. The public was so inquisitive about what they cost to buy, where do you get parts, how fast they go, and the gas mileage. This is how to stir up interest in the hobby.
Members and friends alike come out to our planned activities and tours. I want to see more of you Diamond Tread members. Fill up that gas tank, check that oil and water, and don't forget to air up the tires… let's go touring. If anyone has suggestions as to where to go on tours, J.C. is open to ideas, or call any of the Board members. Come to our meetings and express yourself. I welcome the input. Don't be shy, we are here to serve and help. We will see you there.
Call me any time.
Larry Ryan President.
562 484 8415 is my cell.
Email is: LRyan41724@msn.com.
DIAMOND TREAD CHAPTER OF THE MODEL A FORD CLUB OF AMERICA
Minutes of the September 8th, 2021 Board and General Meeting

San Martin Park, Lakewood
Called to order by President Larry Ryan at 4:04 p.m. Flag Salute lead by LeRoy Kehret

17 members and 8 Model A's present.
President Larry Ryan; Nominating committee; Chuck Mayhew, Luke Sayer, and Bob Toerge.
Possible meeting places? Sizzler on Lakewood. Will be checked out by Larry and Vicky.
Vice President Steve Sixt; Oct. 2nd Tulare Swap Meet, and Model T Swap Meet in Fullerton.
Jan. 20-30. Turlock Swap Meet.
Secretary LeRoy Kehret; Aug. meeting minutes were corrected to read "Sept. 18th meeting place at McDonalds, Spring and Palo Verde". Minutes approved as corrected.
Treasurer Louise Beckley; bank balance was stated.
Membership Chair Vicky Bartlett; The Nominating Committee is selected in Sept., nominations are announced in Oct., election of officers is in Nov., and installation is in Dec. The Orange County Pancake Breakfast is still up in the air for Spring, 2022.
Hospitality Chair, Judy Thomas and Historian/Publicity Chair Bonnie Ryan were absent
Tour Director J. C. Stephenson; Last Friday's Lion's Museum tour to Santa Ana was great.
Friday Sept. 17th, 4:00 p.m. La Palma Concert-in-the-Park will be honoring veterans.
Sat. Sept. 18th tour to Randy's Donuts, 805 W. Manchester, Inglewood will leave from

McDonald's on Spring and Palo Verde at 9:00 a.m..
Sept. 30 tour honoring first responders is still open, will start in Garden Grove.
Fund Raising/Picnic Coordinator Bob Toerge; S.F.S. Parks are still closed. 1/3, 1/3, 1/3, is on.
Web Master Mark Simons;
The mass e-mailer tool is available to the President and Tour Director, Pricing on it's usage is pending our non-profit classification with "Twilio"
. Check your Spam folder if you haven't received mailings.
Henry's Helpers Chair Chuck Mayhew; Jim Barger has made a differential cage. (See Chuck's back seat.)
Larry got Bob Toerge's '35 pick-up running again. (It was a coil issue.)
Pauline's and Linda's cars have been worked on.
Mark Williams' phone charging circuit has been corrected.
Old Business; Charlie Sento said that La Palma's Concerts-in-the-Park have been going on for 13 years, and no Trunk-or-Treat at the school this year again.
New Business; Vicky will order the Diamond Tread Chapter tri-fold info folder for concerts.
Chuck moved to reinstitute a $ 0.25 fine for not wearing a name badge. Motion failed.
Raffle; (1/3 still goes to Gallatin School) Winners were Chuck Mayhew and Chuck Mayhew.
Meeting adjourned at 4:55 p.m.
Respectfully Submitted; LeRoy Kehret, secretary
October 2nd

Pioneer Days in Artesia - meet at Check Mayhew's home (16714 Westgate Ave. Cerritos) at 1:0pm

October 12th

Red Hot Sparks - Cabo Taco Baja Grill - see the calendar entry for details

October 13th

General Membership Meeting - San Martin Park - 4:00pm
November 7th

San Fernando Valley Swap Meet & Car Show -21000 Plummer St Chatsworth 7am - 2pm



December 26th

65th Annual Holiday Motor Excursion - Presented by The Horseless Carriage Club of So Cal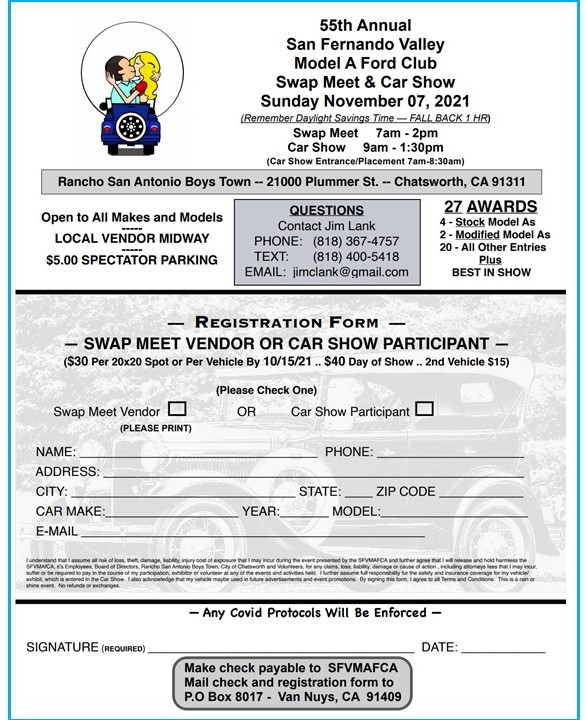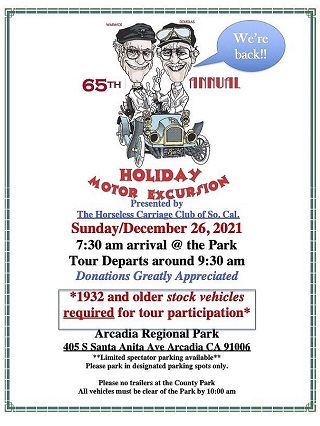 Our club stands at 60 family units.

Vicky Bartlett
Membership Chair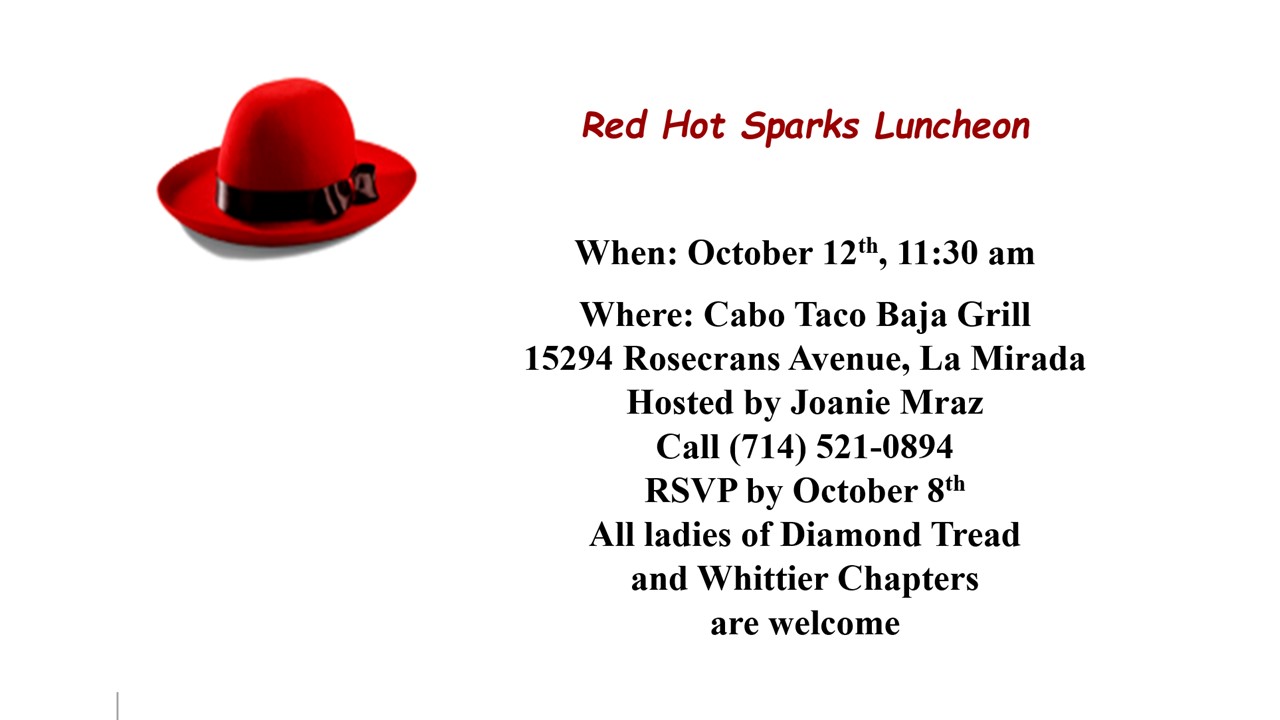 September: Celebrate & Congratulate

Birthdays
Joe Beason
Mike Long
Jim Runyon
Bonnie Ryan
Joan Sento
Mike Spearman
Judy Thomas
Martie Wiedle
Anniversaries
Wayne & Martie Wiedle
Frank & Maria Azucena
Joe & Pou Im Beason
Ron & Betty Boan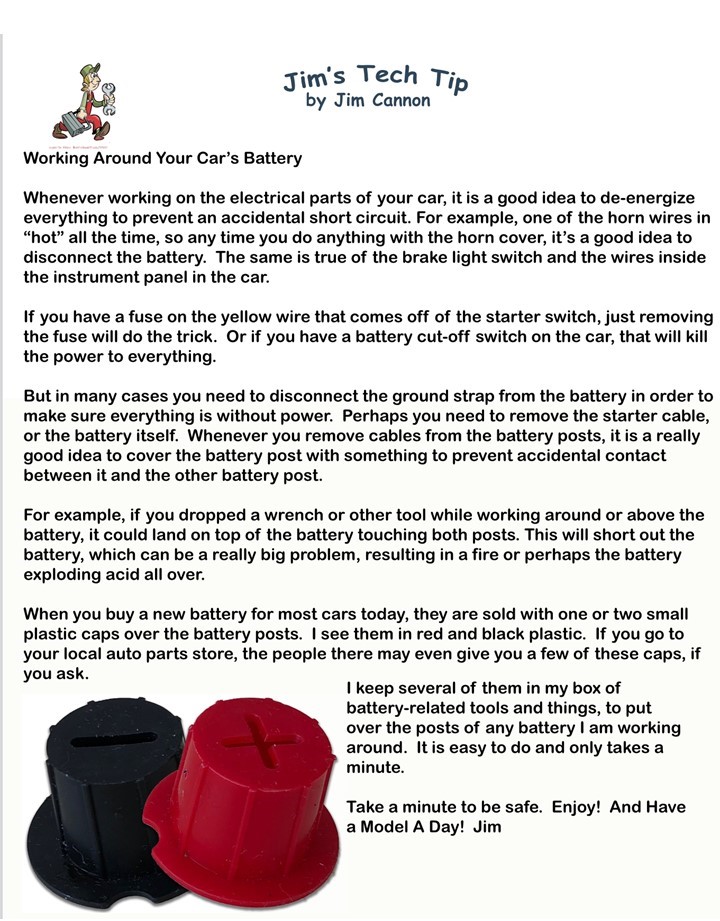 Thank you for visiting DiamondTread.com.  If you have any comments (enhancements, errors, typos, oversights, updates or even an "Ata Boy") regarding the website, please send an eMail to WebMaster @ DiamondTread.com and we will address any issues ASAP.