Newsletter

The President Message January 2022
Happy New Year Model A'ers. The New Year is upon us and a fresh start for the active months ahead.
I am in my sixth year as president, and still learning. Boy what I got myself into when I said yes back in 2016. No big deal, learn as you go, and will serve again without the swearing in formality this second year under Covid.
Honestly, I am at a loss for words about Greg Earhart passing this last December 12th, 2021. I personally did not know Greg well, but he was approachable, and I did engage him with conversations about the authentic Model A, he had a host of information. He did scrutinize our 28 Tudor as requested by me. He gave me some good pointers to make the 28 100% correct. Greg and his wife were active members of at least three local chapters. Greg did his best to keep the hobby alive. He donated generously to our Henry Ford Picnic Raffle. Greg and Fran drove their Model A's across the United States together to the big annual events that we would consider brave and challenging. What adventures they had when motoring across the fruited plains in a Model A. Greg was helpful and caring. My prayers go out to Fran, and family.

Greg Earhart's Funeral Service announcement

Greg Earhart's funeral service will be on Friday, January 14th.
Viewing will be 9:30 – 10:30 AM.

Service is at 11:00 AM in the chapel, and will be a Catholic Mass.
The location is at All Souls Cemetery on 4400 Cherry Long Beach between Delamo, and Carson. There will be a luncheon to follow.
Fran Earhart would love to see us drive our vintage Model A Fords.
Up to a dozen regulars have been rendezvousing at various locations for a mid-week breakfast, coffee, and donuts on Wednesday mornings at 9 am, check your email for weekly locations and times. This is not only for the good old boys; bring your wives. Remember all for one and one for all. This is what our club is about, fun cars, nice people, and tasty food.

A recent topic discussed during these gatherings was regarding an extended tour this coming Spring. We want to get "out and about" in our vintage automobiles. Further discussions necessary.
As always if you need help on your Model A, call Chuck Mayhew (562) 688 5533. The Henry Helpers are here for you.
Keep the faith and stay safe motoring… Happy New Year.
Larry Ryan: President
Cell 562 484 8415 email LRyan41724@msn.com
DIAMOND TREAD CHAPTER OF THE MODEL A FORD CLUB OF AMERICA
Minutes of the
December 9th,
2021 Board and General Meeting
Calvary Cross Chapel Preschool, 16705 Gridley, Cerritos
Meeting called to order by President Larry Ryan at 6:39 p.m. Flag Salute led by Steve Sixt.
Guests include newly-elected MAFCA Board Member Ed Tolman, Chair of the Pomona Valley Chapter, and his father Deloy Tolman.
Larry missed the tour, but Chuck Mayhew, Luke Sayer, and Charlie Sento were able to get to the Railroad Memorabilia Museum in Long Beach
Vice President Steve Sixt;
Gunther's Garage is open for visitors once a year, on the first Sunday of December

Steve presented President Larry Ryan with a Christmas gift from the Board; a Craftsman Garage Stool
The minutes of the November meeting were approved as posted in the on-line newsletter
Treasurer Louise Beckley;
Gave the bank balance, and noted that the P.O. Box rent has jumped from $119.00 to $146.00 per year
Fund Raising/Picnic Chair Bob Toerge;
Santa Fe Spring Parks are still closed. Steve Sixt mentioned that the La Habra Heights Park might be available
Henry's Helpers Chair Chuck Mayhew;
Larry and Chuck painted Larry's brakes

Worked on Pauline's gas gauge and wiring

Luke's tire pressure and toe-in
Membership Chair Vicky Bartlett, Historian/Publicity Chair Bonnie Ryan, Tour Director J.C. Stephenson, and Webmaster Mark Simons were absent.
Charlie is still working on obtaining new chapter shirts
Ed Tolman presented the Annual MAFCA Website of the Year award to Mark Simons and the Chapter

J.C.'s daughter is making drinking cups available with the member's name and car photo

Ed Tolman told of his recent attempt to cross the old Mojave Road from Needles to Barstow, but was turned back early due to a coil problem

Pauline related how she obtained her '28 coupe 55 years ago
Refreshments, thanks to Pauline Issa.
Raffle; 1/3, 1/3, 1/3 won my Linda Seagroves and Joan Sento.
Meeting adjourned at 7:52
Respectfully submitted, LeRoy Kehret, Secretary
January 11th

Red Hot Sparks Luncheon - CANCELLED FOR JANUARY
January 13th

General Membership Meeting - CANCELLED FOR JANUARY



Greetings, Diamond Tread Members,
Many thanks for those who have renewed your Diamond Tread membership for 2022.
If you have not already done so, attached you will find the renewal form.
-
-
-
-
-
-
-
-
-
-
-
-
-
-
-
-
-
-
-
-
-
-
-
-
-
-
-
-
-
-
-
-
-
-
-
-
-
-
-
-
-
-
-
-
-
Congratulations to our long time member Joyce Simmons who has renewed her membership in celebration of

50 years

since she and her husband had originally joined in 1972.
-
-
-
-
-
-
-
-
-
-
-
-
-
-
-
-
-
-
-
-
-
-
-
-
-
-
-
-
-
-
-
-
-
-
-
-
-
-
-
-
-
-
-
-
-
You may phone or text me at my cell 213-445-2962 if you have any questions about your dues payment.
Looking forward to seeing you in 2022.
Diamond Tread Chapter MAFCA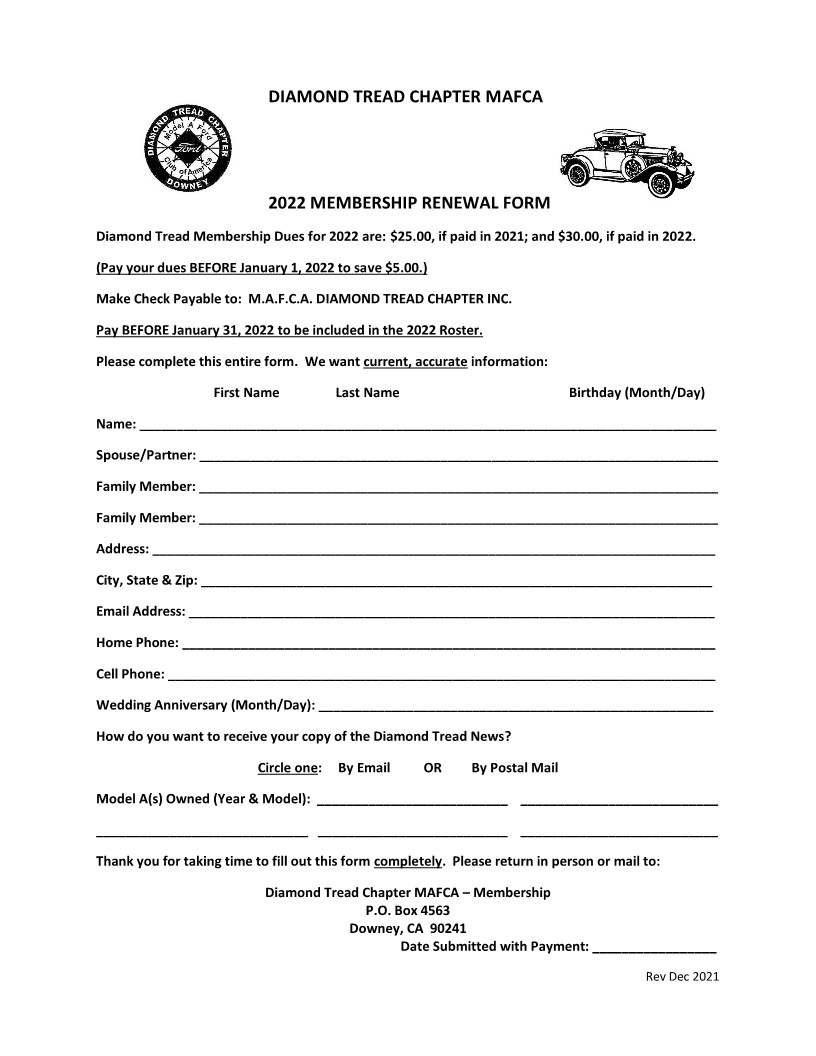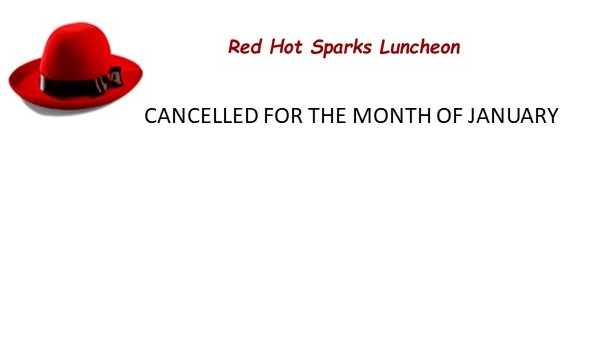 January: Celebrate & Congratulate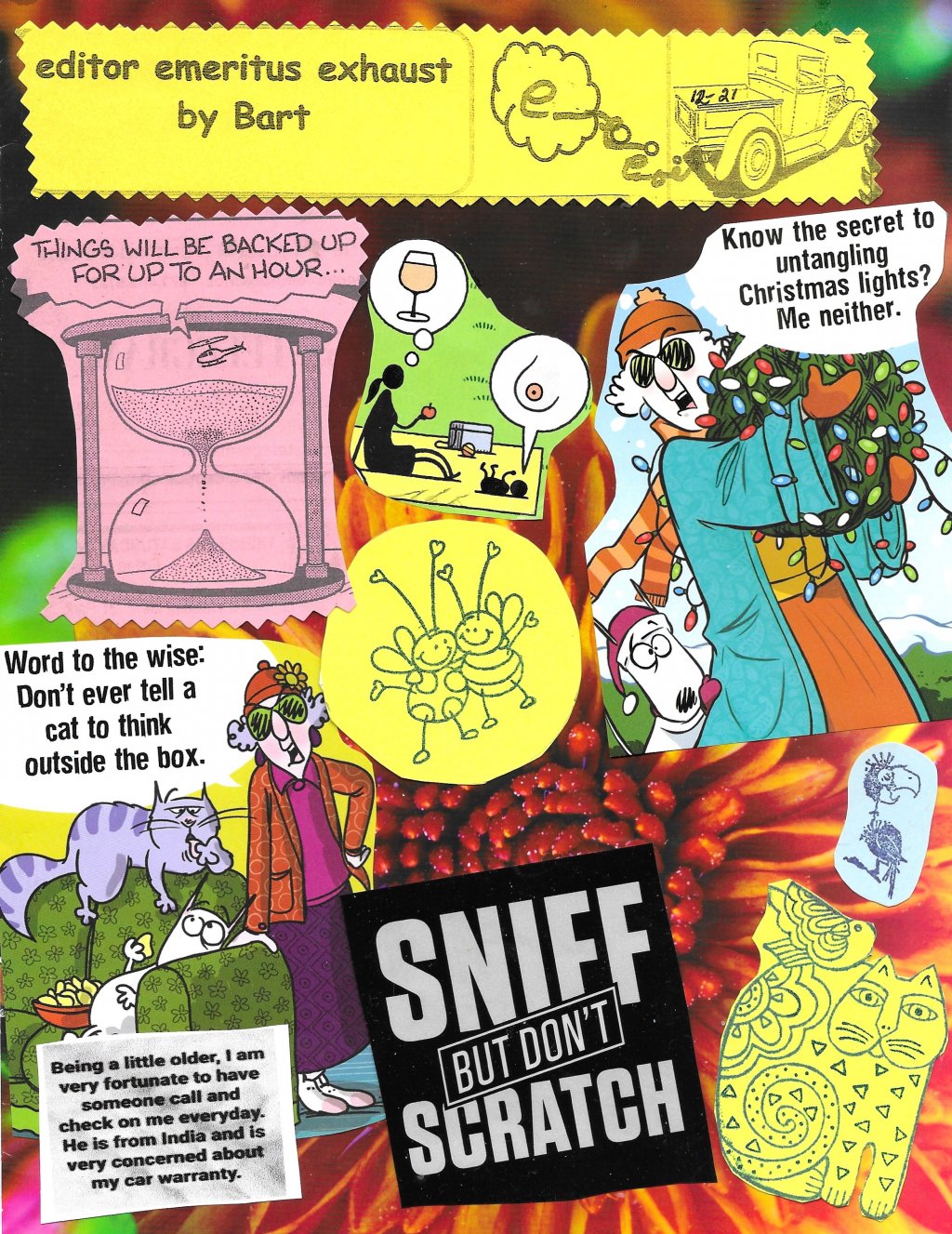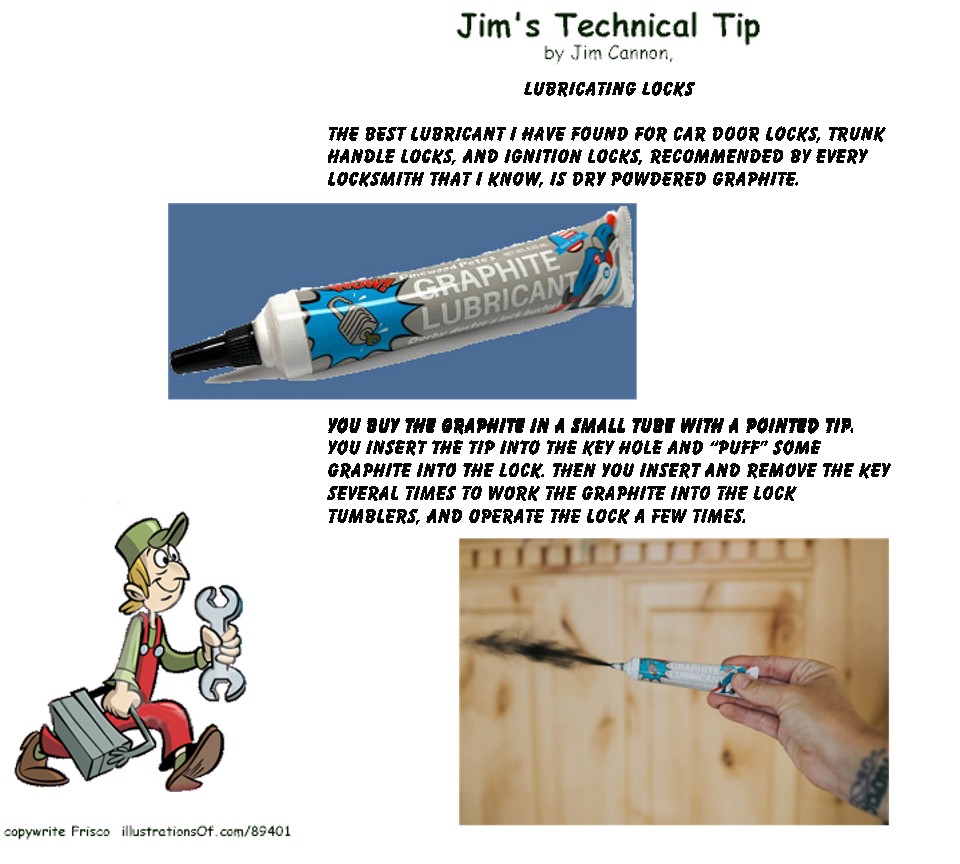 Thank you for visiting DiamondTread.com.  If you have any comments (enhancements, errors, typos, oversights, updates or even an "Ata Boy") regarding the website, please send an eMail to WebMaster @ DiamondTread.com and we will address any issues ASAP.