Newsletter

The President Message June 2021
As of the May club meeting, it was announced that due to unforeseen circumstances our Editor was no longer able to continue in this role. It was agreed that until this position is filled, the President's Message would be published on the Diamond Tread website. I will be in contact with fellow members either by text or phone calls with information that needs to be shared among members on events.
Bonnie and I are sharing photos of recent events:
On May 13th several Diamond Tread members joined the Early Ford V8 club of Southern Calif and Long Beach Model T club for a Drive-By of the first responders in Long Beach. It was a nicely organized 20-mile tour of hospitals and fire departments. The Model T's lead, then the Model A's with the early Ford V8 following. There was plenty of horn blowing during this celebration.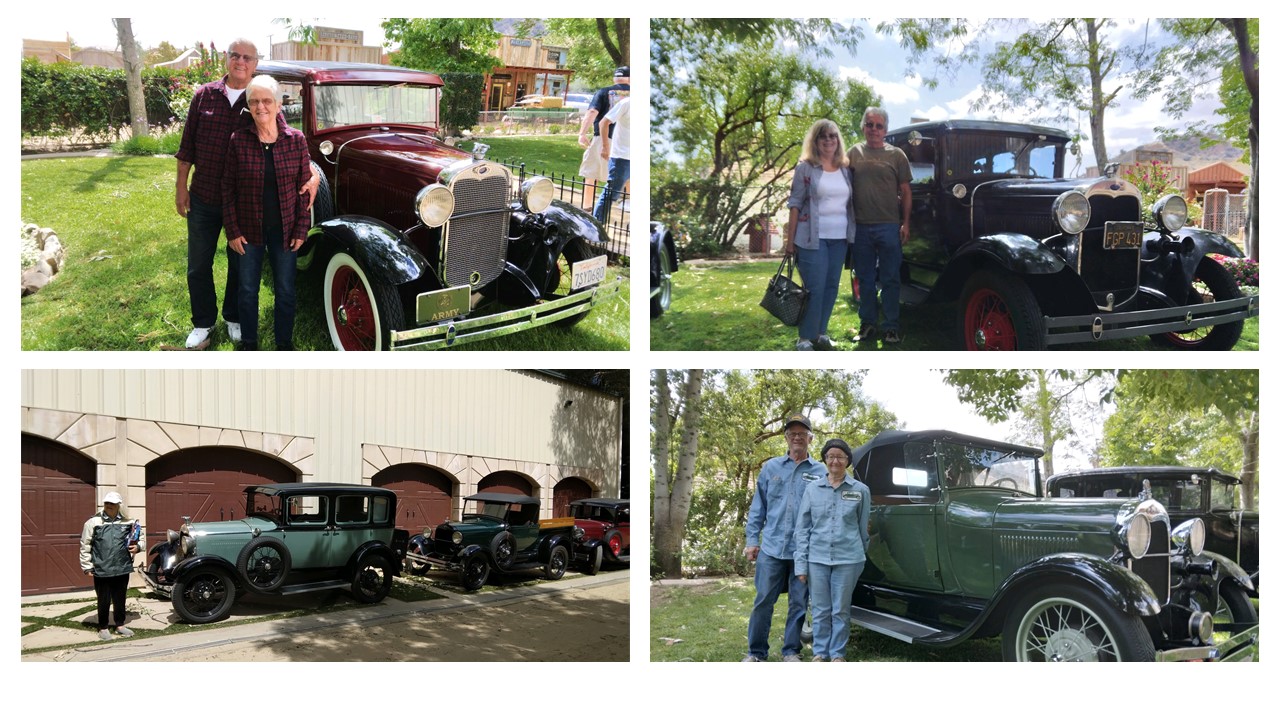 On May 22 our chapter joined Pomona Valley, Santa Anita A's, and the Paradise Valley Model A Club of America chapters on the Long Garage tour. The tour was held at the Long's home in Corona. Bonnie and I lead the tour with five Model A's: our 1929 Murry Sedan, Charlie and Joan Sento in their 1930 Sedan, Chuck Mayhew and his Grandson Ben in their 1931 Sedan, Barry and Louise Beckley in their 1928 Roadster, Jim Barger in his 28 Roadster pickup and Jim and Jan Barney in their 1930 Sedan. We drove threw Carbon Canyon to Ontario where we joined with the other chapters and headed to Corona. All cars preformed perfectly. This was a private museum in a very large garage, showcasing the Long's collection of vintage memorabilia made up of years of picking throughout the United States. You name it and Mr. Long has collected it (see the attached photos). This was a special invitation event, which was our second visit with the Pomona Valley Chapter. This collection is beyond belief: a Texaco service station, a fully stock Country store dating back to the early 1930's (remember White King D laundry detergent?) and mechanic tools of the era of our Model A's. I reminisce as some of the equipment I used during my youth in high school auto shop. This is one of the best collections we have had the privilege to visit. Ed Tolman along with his helpful partners served us hamburgers with all the trimmings. Our chapter caravanned home led by Charlie and Joan Sento in their 1930 Sedan. A very nice day with friends and Model A's.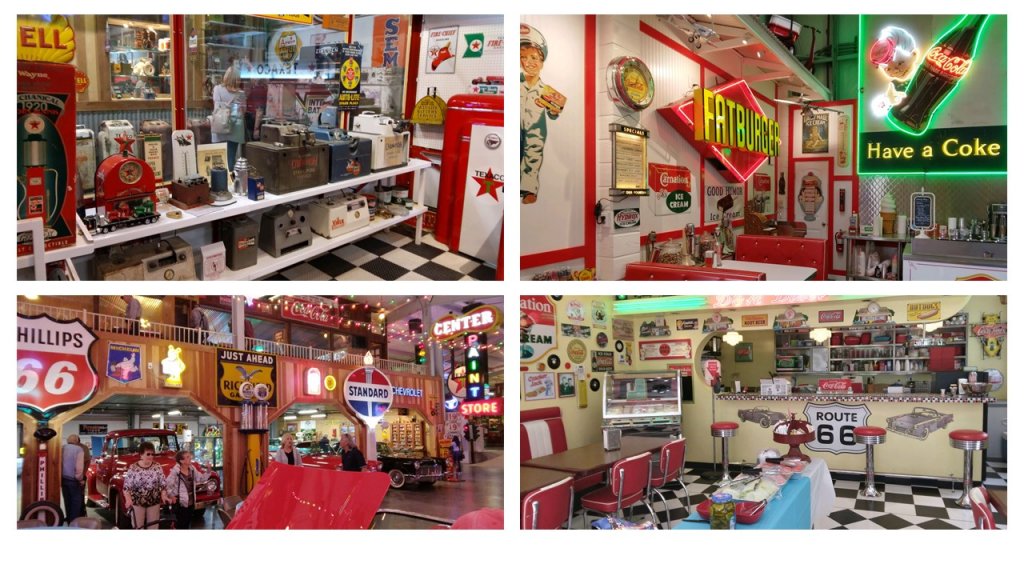 Henry's Helpers of the Diamond Tread Chapter were busy at work again:
Last March another success story was accomplished. Our new member Joe Franco has a 1930 Model A Coupe. It got a shot at motoring again by Chuck Mayhew, Jim Barger, and me. The usual problems with being dormant for years was associated with this Model A, gasoline that turned into slime, with clogged fuel lines, a frozen Zenith carburetor, and some electrical issues. The Model B diamond engine was nearly seized from not being run for years. Marvel Mystery Oil did its miracle to the engine cylinders, freeing up and help limbering the engine to a reciprocating status. After a total of 2 sunny days, Joe's Model A is now on the road again. Freeing up that engine took about 10 days to let the MMO do its work because it was too difficult to hand crank with the spark plugs out. Wow did that Ford smoke after the first start in 10 years. Now there is another Model A on the road to motor in.

April also kept Henry's helpers at work, in April, as usual. New kingpins were installed on J.C.'s 1928 Model A. Let say another Job well done with the help of J.C.'s friends, and Henry's Helpers. There was also an engine change done on J.C.'s 1928 2 door.

Barry Beckley helped Jim Barger with his 1928 Roadster pickup top bows repair.
Just before last May Charlie Sento, Chuck Mayhew and I visited Chuck's cousin (Ed Tolman) in Pomona to deliver Charlie's flywheel to be lightened. We got the nickel tour of Ed Tolman's shop. Ed does Mode A's engine rebuilds. You name it he can get the job done. Great! Another Model A engine builder. Ed Tolman is also president of the Pomona Chapter of the Model A Club.
There is light at the end of this Covid pandemic tunnel. Upcoming events:
Wednesday 9th of June at 3:00pm we will conduct the next general/board meeting at San Martin Park 5700 block of Hardwick Lakewood, see you there with your Model A's. There will be upcoming events that we will be considering.

Saturday June 12th 9:30am there is a Happy Days Good-Will tour at Leisure World in Seal Beach.

Sunday June 13th there is a tour of Palos Verdes Peninsula that will be a Coming Out of the Pandemic Excursion tour for our chapter. We will depart from the Wienerschnitzel located at Alondra Blvd and Maidstone Ave in Norwalk at 9:30 am. The details have been worked out by Chuck Mayhew and me. I know we are working forward to normalcy and this tour will be scenic drive. The Long Beach Model T Club is invited along with the Whittier Chapter Model A's. I know we all just want to get out and motor in our 90 plus old Model A Fords. It will be a breath of fresh air.

July 17th 2021 The Model T Club of Long Beach is sponsoring their 67th Annual Vintage, and Classic Parts Exchange (gates open at 5:30 am). For recruiting purposes, our Chapter has reserved the ideal four spaces again at the Veterans Memorial Stadium. As I am sure all of our Chapter Members would agree, I am looking forward to expanding our membership with new blood.
In closing, myself as President, is optimistic about the coming months. Concerts in the Park are going to resume this August - Charlie Sento is gathering the details of dates and times to be announce.
Let's not throw caution into the wind, but be smart and look forward to "Happy Days are Here again, and skies above are clear again" (Annette Hanshaw 1930), which is Model A period correct theme.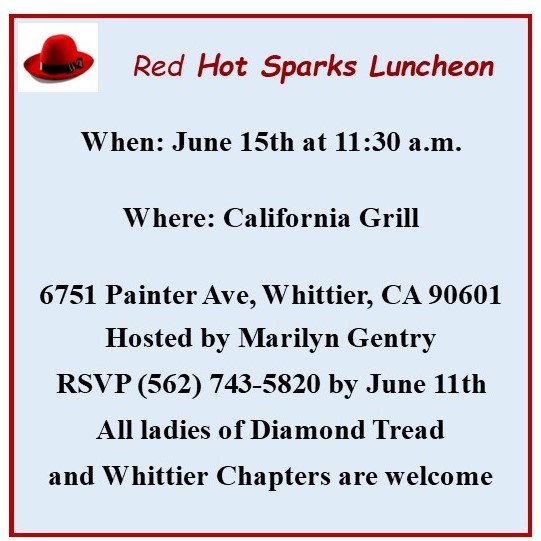 Thank you for visiting DiamondTread.com.  If you have any comments (enhancements, errors, typos, oversights, updates or even an "Ata Boy") regarding the website, please send an eMail to WebMaster @ DiamondTread.com and we will address any issues ASAP.