Home
Greetings and welcome to our site. We hope that you and yours are staying safe and healthy!
It is with a very heavy heart that we have learned that the Model A community has lost another dedicated supporter of the hobby in our own Greg Earhart. Greg passed away on December 12th and will truly be missed by the Diamond Tread family. Our deepest condolences for Fran and her family.

I also just learned that Linda Seagroves' daughter and granddaughter were involved in a fatal automobile accident... caused by a drunk driver. Our condolences go out to Linda and her family. Linda was key in coordinating the monthly General Meetings being held at Calvary Cross Chapel Preschool in Cerritos, as well as opening the doors for this event. Out of respect for Linda's personal time for greiving, the President has called for a cancellation of the January General Meeting.

- - No General Meeting to be held in January - -

Happy 2022... the new Board of Directors hope that 2022 will bring you and yours health, happiness, and many great miles of Model A driving.
It is with immense pride that I announce that the Diamond Tread website has been recognized by MAFCA as the Chapter Website of the Year. Ed Tolman, MAFCA's newly elected Technical Director, presented the award at Diamond Tread's December meeting.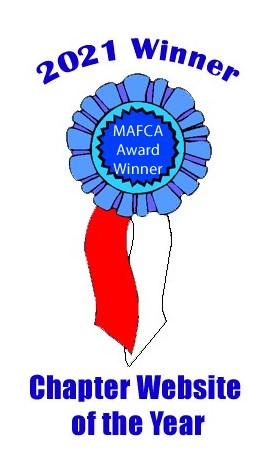 2022 is the 12th year that Diamond Tread's website has been in existence. Mid 2021 the club was without a Newsletter Editor, so the Webmaster gathers the essential pieces from each BOD officer. Members have been instructed to reference the website for updated information. The website also contains a Google Calendar, which you can be incorporated to your personal Google Calendar. The ability for the President and/or Tour Director to send eMail or Text messages to members was also introduced in 2021. A new Members Only page was created and contains the names and contact information for individuals that have authorized such information be available on the website.

Take a look at the "Newsletter" page and you will see: informative updates from the President, summary of last month's events via the monthly minutes, Membership updates, what the Red Hot Sparks are up to, who is celebrating a Birthday/Anniversary, upcoming events for this month to get you out on an outing and exercise your Model A and finally a bit humor via the Editor Emeritus Exhaust.
Due to the fact the General Membership Meetings are being held inside of a room that is filled during the day with several children and teachers, collectively we will need to be Covid safe. CDC recommends:
We care about you and want to see you on the road again soon! Stay Safe!
Please note
:
the Calvary Cross parking lot is concrete, so

please bring an oil drip bib for your Model A

.
If you are a club member that would like their car posted in the "Our Cars" section, please send a jpg file to WebMaster@diamondtread.com. Accompany that picture with year and model style. If you have any comments or corrections, please also forward those to WebMaster@diamondtread.com
"People don't care how much you know until they know how much you care"

— Theodore Roosevelt
Thank you for visiting DiamondTread.com.  If you have any comments (enhancements, errors, typos, oversights, updates or even an "Ata Boy") regarding the website, please send an eMail to WebMaster @ DiamondTread.com and we will address any issues ASAP.