Home
Greetings and welcome to our site. We hope that you and yours are staying safe and healthy!
IMPORTANT NEWS FROM OUR PRESIDENT:

The September General Meeting will be held at:
The Sizzler in Downey on 10315 Lakewood
September 8th at 4:00pm threw 6:30pm
**** No food purchase is require just come!!!

This is going to be an important meeting, as we will be appointing a nominating committee.
Any questions give Larry Ryan a call at 562 484 8415
September is when International Model A Ford Day is celebrated, however there does seem to be some confusion as to a specific date for the event:
Model-A-Ford.org has the date as September 11th (with a local rain date of 9/12) however on their calendar page the date was listed as September 17th (with 9/18 as the local rain date).
MAFFI shows September 16th and 17th, they note Model A Day (MAD) is always the third Saturday in September. This year's MAFFI Model A Day festivities will be at the Model A Ford Museum on the Gilmore Car Museum campus in Hickory Corners, Michigan.

As you will see on the Newsletter page, Diamond Tread will be celebrating with OCMAFC on September 17th with a tour through Orange County.
Plans for the International Model A Day began in 2008 when Bruce Adams and others came up with the idea for this event and 2009 would be the first year of this annual event's celebration. On https://www.vintagefordforum.com, Bruce is referred to as the "Coordinator-Founder-International Model 'A' Ford Day".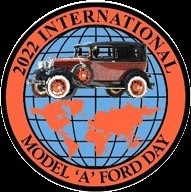 To commemorate the day, Bruce is selling patches for $3.00 apiece (minimum oder of twenty patches - includes shipping and handling). All profits will be donated to the National Club's MODEL A YOUTH Scholarship and Restoration Programs.

If interested, please send checks to:
Bruce Adams
PO Box 45
Northport, NY 11768
Take a look at our "Newsletter" page and you will see: informative updates from the President, summary of last month's events via the monthly minutes, details on where the Red Hot Sparks will be meeting, who is celebrating a Birthday/Anniversary, upcoming events for this month to get you out on an outing and exercise your Model A, a bit of humor via the Editor Emeritus Exhaust and finally links to relevant MAFCA pages.
If you use a Google Calendar, please consider merging the Diamond Tread Calendar in with your own. This will allow you to view our upcoming events at a glance. This calendar is also posted on the Diamond Tread website's Events/Dates page.
It appears that overall Covid cases and hospitalizations in Los Angeles County are declining. As of 8/19, Cases are down 29% compared to the previous 14 days. Hospitalizations are down 10% and deaths down 24% in the same period.
Latest trends:
The numbers of hospitalized Covid patients and deaths in the Los Angeles County area have fallen.

The test positivity rate in Los Angeles County is high, suggesting that cases may be undercounted.

An average of 3,546 cases per day were reported in Los Angeles County, a 25 percent decrease from the average two weeks ago. Since the beginning of the pandemic, at least 1 in 3 residents have been infected, a total of 3,376,611 reported cases.



Make sure you are

up to date

with your COVID-19 vaccines.
In general, people do not need to wear

masks

when outdoors.
If you are sick and need to be around others, or are

caring for someone who has COVID-19

, wear a mask.
If the

COVID-19 Community Level

where you live is

Low

Wear a mask based on your personal preference, informed by your personal level of risk.

Medium

If you are at risk for

severe illness

, talk to your healthcare provider about wearing masks indoors in public.

If you live with or will gather with someone at risk for severe illness, wear a mask when indoors with them.

High

If you are 2 or older, wear a well-fitting mask indoors in public, regardless of vaccination status or individual risk (including in K-12 schools and other community settings).

If you are at risk for severe illness, wear a mask or respirator that provides you with greater protection.

Testing

before a gathering can give you information about your risk of spreading COVID-19.

Consider using a self-test before joining indoor gatherings with others who do not live in your household.

Stay home if you test positive, even if you do not have symptoms.

Stay home if you are sick or experiencing symptoms of COVID-19.

Communicate with the people you will meet with about prevention strategies.
We care about you and want to see you on the road again soon! Stay Safe!
Monthly Meetings (2nd Thursday of the month) start at 6:30pm and are held at:
Calvary Cross Chapel Preschool and Extended Day Care
16705 Gridley Rd, Cerritos, CA 90703
Please note
:
the Calvary Cross parking lot is concrete, so

please bring an oil drip bib for your Model A

.
If you are a club member that would like your car posted in the "Our Cars" section, please send a jpg file to WebMaster@diamondtread.com. Accompany that picture with year and model style. If you have any comments or corrections, please also forward those to WebMaster@diamondtread.com
"
No one cares how much you know, until they know how much you care
."
— Theodore Roosevelt
Thank you for visiting DiamondTread.com.  If you have any comments (enhancements, errors, typos, oversights, updates or even an "Ata Boy") regarding the website, please send an eMail to WebMaster @ DiamondTread.com and we will address any issues ASAP.